I have a new obsession. Steel case office equipment! Found at garage sales and thrift stores- these work wonders for scrapping supplies. I have file boxes, document boxes and index card boxes. My latest find for the huge price of $1.00 was a very greasy invoice holder from an auto garage. Covered in grease (a Mr. Clean Magic Eraser took that off in seconds) each slot works perfectly for 12x12 paper!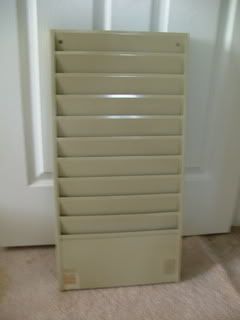 These metal gems are easily transformed to work with the decor in any scrapping room.
A little spray paint and Viola! A lot cost, stylish storage solution.
*Update*
Here's my find hard at work holding completed layouts waiting to be put into scrapbooks!