I'm not going to go into details- but, I am glad that it is the regular week so I
can recover from my weekend. Why do things always happen at the same time?
My inspiration for the day is when scrapping stay true to yourself. It realized
lately that I spend so much time scrapping that I miss doing other things I like
to do. Like needlework. My solution? To make needlework for my layouts.
So last night I dug into my stash of antique buttons and recycled wool I've
felted and stitched up some flowers. I think they turned out pretty cute.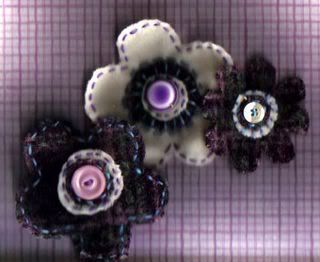 Well, cute enough to motivate me to make more!
If you'd like a chance to win these flowers they are offered as a prize to
all who enter the scrapbook challenge here:
Rocky Mountain Hobbies :: View topic - Oh Crap Challenge