My Dad helped me learn calligraphy. For
some reason I don't use it in my scrapbooks.
I think I don't because nobody else does. It
isn't the "in" thing. Gosh, that is a hard
realization. I am always telling my boys to
follow their own instincts and not to worry
about what others think. Time to take my
own advice.
This is a page of Calligraphy borders that would
be wonderful for Freestyling ! It comes from an
old college text book that was my Dads in college.
I've loved this book of Type Specimens for as
long as I can remember.
PocketMod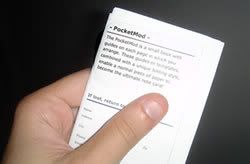 These are so cool! Just go to this link http://www.pocketmod.com/app/index.html
For free you can create the ultimate
organizer. Choose what you all you want to include
Shopping List, Calendar , Games, Phone book and
many more. Print it out and follow the folding directions.
The tiny business card sized pages will work
great for journal and embellishing scrapbook pages!